Below are a few points that are often brought up in a consultation, which you may be curious about in advance of calling us.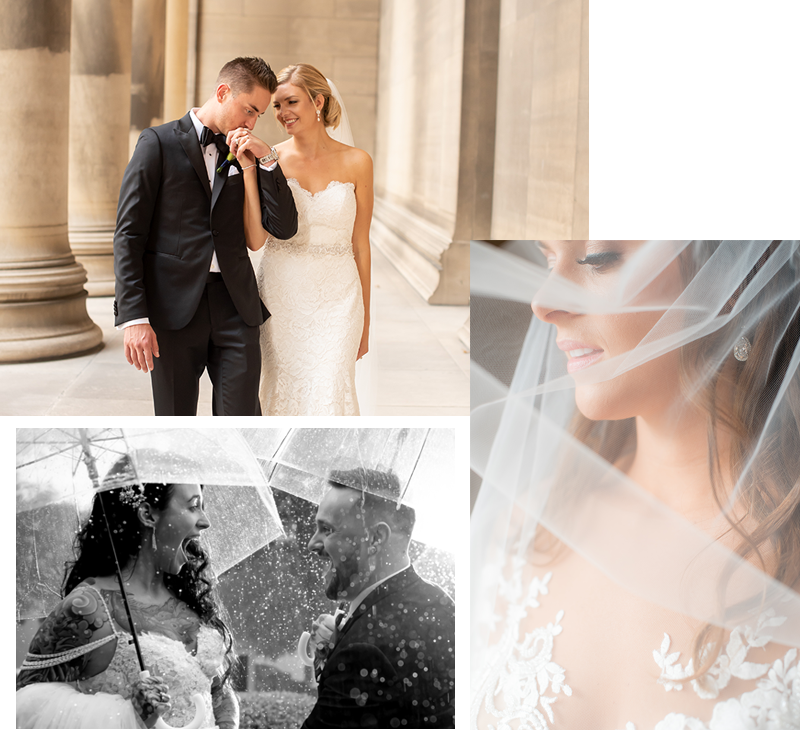 Frequently Asked Questions
1
DO YOU OFFER WEDDING ALBUMS?
Our Wedding albums are custom designed and hand made in Italy. An appointment to view our samples in studio is highly recommended to see, touch and feel the amazing cover options! Covers available in leather, metal, cork, wood, silk, acrylic - with or without images. There are so many options to custom design your wedding album, we highly recommend considering this as an a la carte addition to your wedding package. Keep in mind, you can always purchase a wedding album after the wedding, as well as register for it!

Our first album we ordered through this company was in 2007. Since we have been a long time customer of this company, we have great rapport with them and have never had a client return their album to us with issues.

Take a look at the sample wedding albums we offer. They are absolutely stunning works of art from the best album print+bind company in the world.
2
CAN YOU TELL ME ABOUT ENGAGEMENT SESSIONS?
Engagement sessions are not included in your wedding package, however you can add it on a la carte. Location and style are up to you, but we can make suggestions on a lot of options. Fields/nature, downtown/urban, and glam studio sessions are among the top three choices for most couples. Check out our galleries for ideas!
3
DO YOU HAVE BOUDOIR SESSIONS IN STUDIO?
Yes, we do! The majority of our boudoir sessions are brides who are being photographed for an album which will be their wedding gift to their new husband. Autumn is highly experienced in posing and lighting for boudoir. Our studio is over 3000 square feet and has both natural light (soft and airy lighting) as well as studio lighting (dark and shadowed), as well as countless chairs, vintage furniture and bed setup. Discounts are available when booking both boudoir and engagement sessions.
4
DO YOU OFFER A PHOTO REGISTRY?
We offer a registry for your wedding album and/or prints, canvas, and small albums. A great addition to add to your shower registry alongside other items for your new home life together... why not add framed prints from your wedding, or an album. This way you can concentrate your photography budget on the essentials, such as the base package and an engagement session.
5
WHAT TYPE OF EDITING IS DONE TO OUR IMAGES?
Our wedding contract includes editing on all of your photos that we choose for your flash drive (approximately 700-1000 photos), including color correction, cropping, exposure, contrast, straightening, black and white artistic additions, sharpening, and any other photography based edits required based on photographer's sole discretion. It also includes up to 15 images of art editing on close ups on bride and groom, which means skin blemish touch ups, stain removal, bodily touch ups, or anything needed to improve the overall look.

Our process for editing your photos begins after the wedding ends. The entire process will take several weeks to two months at most to cultivate the best shots from that day and do a general edit on the chosen photos. On average, we turn around your wedding images in about a month depending on the time of year.

*Additional post wedding requests such as removing objects or people from backgrounds, removal of braces, etc also available.
6
HOW WOULD YOU DESCRIBE THE EXPERIENCE OF WORKING WITH YOU?
Autumn Stankay has been in business as a full time photographer since 2004. The photography community is full of amazing photographers in the Pittsburgh region, and we know that you have a lot of choices when it comes to choosing the right one for your wedding day. How is Autumn and her team different? We know there is a lot of competition, but we pride ourselves in our experience level and due to that, our quality is a direct reflection of our years in this field. We are easily able to handle every lighting scenario that is thrown our way, make decisions quickly (the most important part of being a wedding photographer), and work under extremely tight timelines and circumstances. Clearly, we are not easily shaken and stay calm and focused under all circumstances. Because we've shot over 500 weddings, we've seen and successfully managed all the ups and downs that weddings can throw at us without any major hiccups to our workflow. This is why I highly suggest that anyone searching for a wedding photographer be sure that the one you choose has a long history of providing top notch quality to a large number of previous wedding clients. Going with a photographer just based on price would be concerning that these factors are not taken into consideration.
7
DO YOU BACKUP OUR PHOTOS?
We take data management very seriously. The first precaution we take is using double memory cards throughout the wedding day. We only shoot with cameras that have dual camera memory slots, which will save every image we shoot in duplicates. Therefore if there were ever an issue with corruption on a memory card while shooting, we have an automatic backup the second the photo is taken. As soon as your wedding is complete, we begin backing up the images the very same night. We transfer images to hard drive space, backup to separate hard drives, then also make a copy on our server at our studio which is a NAS system with internal automatic mirror backup. We keep the images in two locations (our home and studio) so they are in separate physical locations as well. In reality, we possibly overcompensate for backing up but we always like to be as safe as we possibly can.
8
HOW MUCH COORDINATION IS DONE IN ADVANCE AND DURING THE DAY?
Alongside being photographers for the day, we wear another hat. We will help coordinate your day before and during the wedding. Prior to the wedding, we will send you a packet of information to fill out which includes preferences, family photo lists, and detailed questions about the timing of your day. Once you complete that packet, we'll review it and make ourselves a cheat sheet for the day of all the photos you want taken with family members, an exact timeline to follow, and notes about what you may or may not prefer in your photography. Once the timeline is completed, we'll send it to you in advance to be sure it matches up with your timing with venue/caterer and dj. During the day we'll make sure that family members are accounted for as much as possible, keep you on track so you get to your reception when you are scheduled to arrive, and everything has been completed according to our plan. We'll bring clear umbrellas for the bride and groom if it is raining and carry extra water and snacks just in case the bride or a wedding party member gets ill or faint. Our goal is for your day to not just end with great photographs, but that the day flows so well that you had so much fun taking photos that it was a great memory. We'll be sure to move quickly so the portraits don't drag on too long, and be sure that you and your bridal party have fun every step of the way.
Our photography style is best described as classic, timeless, bold, natural but also dramatic. We like to think that we create a cinematic vibe to our photography, giving your wedding day photos a beautiful visual story. We don't use trendy filters that will date your images, or make them look less than the high quality our cameras produce.
10
HOW MUCH COVERAGE SHOULD WE BOOK?
Our average booked weddings will utilize 7 or 8 hours of coverage, with occasionally needing 9 hours. We do have custom packages that are less or more, based on the nature of the wedding. In some cases, a couple may only need 6 hours, where as sometimes they need as many as 10. However, it is rare to go over 9 hours of coverage on a wedding day. This is because the pre-ceremony (getting ready) portion of the day does not need to be covered by photographers for the entire hair & makeup timeframe, and we typically do not need to photograph the last song of the night either. Too much of either the beginning or ending of the day tends to be repetitive photos, or time where there is not much to shoot. Therefore you may overpay for a package that you do not need. We prefer that you get what you need, and not overspend on hours of coverage when you can put that budgeting towards a wedding album or another part of the wedding day.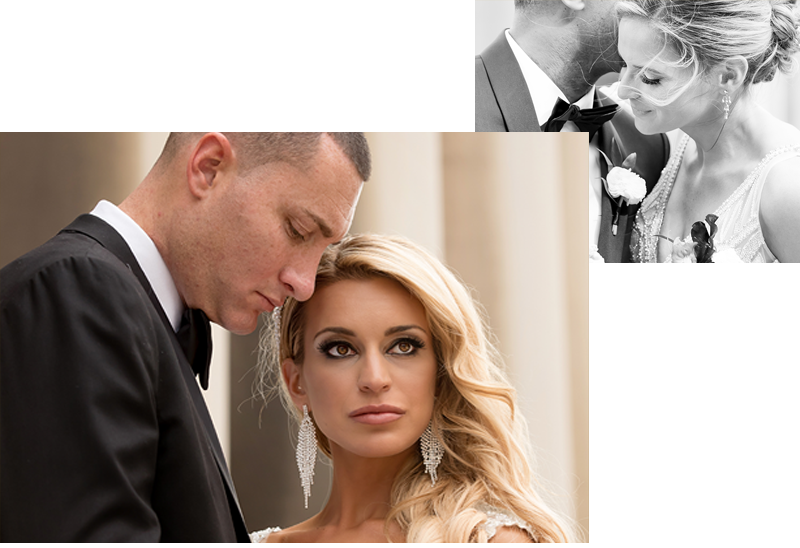 HAVE SOMETHING ELSE IN MIND?
Share your vision with me and we'll work out the best plan for your special day.